ZeroAvia Advancing Green Propulsion Technology With Major Aircraft Companies
ZeroAvia continues to advance hydrogen-electric options for airlines. Recently, the company announced five new partnerships with plans to have planes in the air by 2024.
ZeroAvia Partners With Major Air Players for Hydrogen-Electric Propulsion Engine Conversions
ASL Aviation Holdings – Freight and passenger flights in Europe, Asia, and Africa
Hindustan Aeronautics Ltd – Goals for passenger Dornier 228 19-seat planes to fly within 500 miles; India military
Rose Cay – Conversion for lease with a conditional purchase order for 250 engines deliverable by 2024
Alaska Air Group – Partnership to develop hydrogen-electric power for a 76-seat De Havilland DHC-8-400 plane
Mitsubishi – Partnership with Mitsubishi's MHIRJ Aviation to advance hydrogen-electric propulsion for aircraftMHIRJ Aviation is the world's most extensive CRJ series aircraft repair and overhaul company
ZeroAvia – The Focus on Zero-Emission Air Transport
Founded in 2017 by Valery Miftakhov, ZA has developed a way to utilize hydrogen-electric propulsion in aircraft. The benefits are:
Less noise
Zero emissions
A green competitor to traditional fossil fuel aircraft engines
In 2021, ZeroAvia continued to lead the green energy advancement of air transport from cargo to people. Its advancements in green propulsion technology were demonstrated in the US in 1919 by completing flight tests on a Piper Matrix aircraft and in 2020 in the U.K. They now have over 35 test flights under their belt and the full backing of the U.K. government.
ZeroAvia also moved forward with plans to continue the HyFlyer development after the successful ground testing and with support from the U.K. government. That process moves the company into the 10 to 20 passenger arena.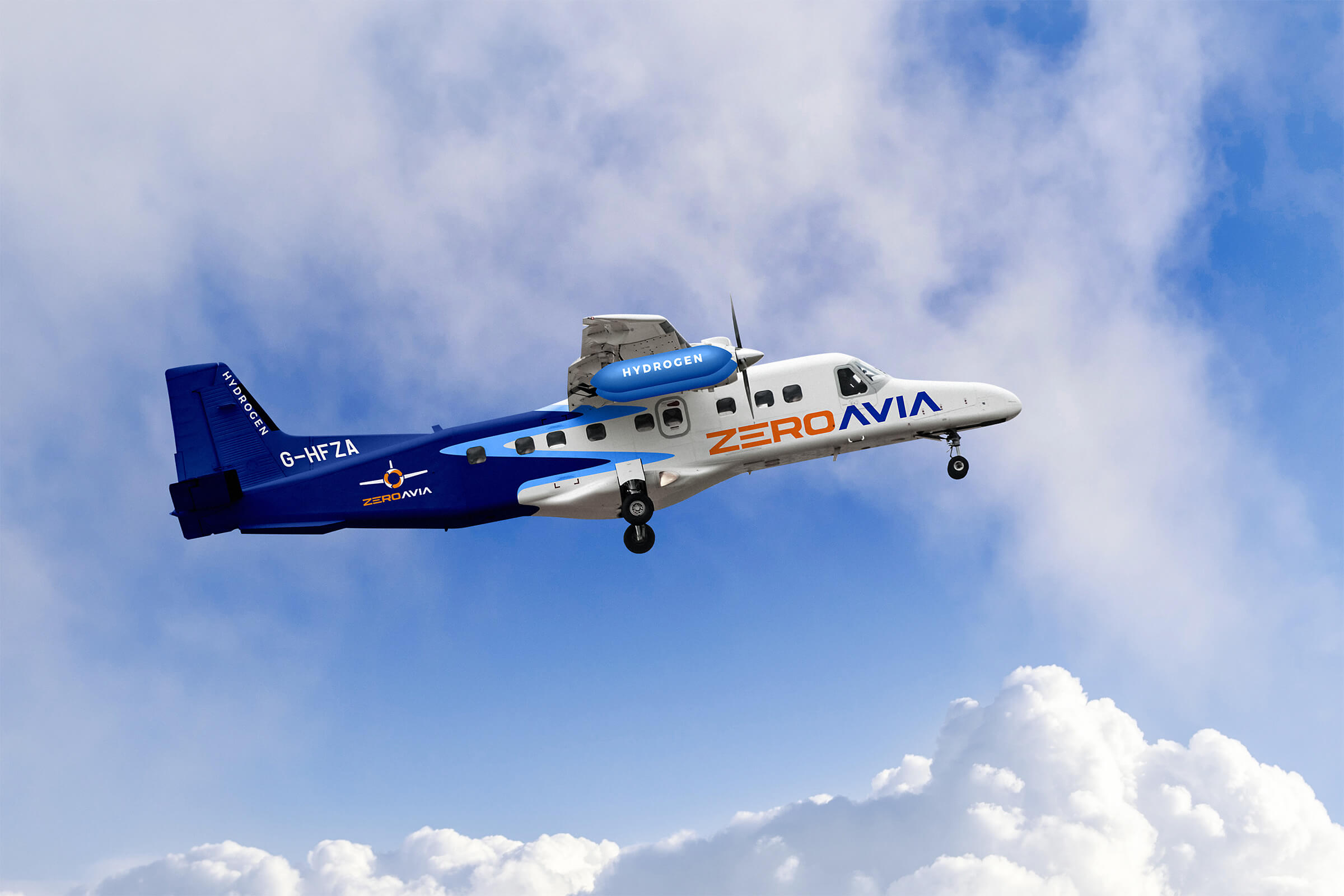 Zero-Emission Power for Aircraft
The hydrogen-electric power train is not an engine replacement, but a retrofit that converts existing fossil fuel engines into hydrogen-electric propulsion suitable for aircraft with propellers.
That fact is a game-changer because it does not require the building of new aircraft. The retrofit options lower the cost associated with finding sustainable fuels and technology for aircraft.
ZeroAvia's success is drawing attention from big players.
ASL Aviation Holdings and ZeroAvia
The deal sets the stage for ASL Aviation Holdings to begin creating zero-emission planes, potentially as early as 2026. However, the ZA team faces a challenging goal to retrofit a retired ATR72 plane from ASL between now and then.
After fitting the electric motor and hydrogen fuel cell to the ATR72 and demonstrating the effectiveness of the technology, ASL will begin to retrofit more planes. The potential for ZA includes ongoing sales of zero-emission retrofit kits to ASL. For ASL, the move to zero-emission planes is a big jump in the right direction. Finally, the company will not have to wait for new planes.
The pairing offers a vital link between reducing greenhouse gases and the logistics of transporting cargo.
We're thrilled to announce our partnership with ASL Aviation Holdings in developing #hydrogenelectric engine conversions for up to 10 of their #ATR72 freighter aircraft. With this collaboration, we're one step closer to #zeroemission cargo flight. #netzero https://t.co/L2RvbEsI70 pic.twitter.com/2zf0h5Y3Xg

— ZeroAvia (@ZeroAvia) November 9, 2021
Hindustan Aeronautics Ltd and ZeroAvia
Hindustan Aeronautics Ltd (HAL) and ZA have entered into a memorandum of understanding (MoU) outlining the commitment of both to fit a hydrogen-electric power train to a Dornier 228 aircraft capable of flying 500 nautical miles.
Dornier 228 are 19-seat aircraft. The MoU also includes a commitment to move ahead with developing a Supplemental Type Certificate (STC) that would pave the way to retrofit aircraft for HAL. Those applications would benefit the Indian military and the environment; both are priorities to HAL.
The long-term goal of this relationship includes the building of new aircraft with the ZA600 engines, with FAA approval. The partnership aims to focus on ability and safety. The project will continue in Kanpur at the HAL facility there.
Rose Cay and ZeroAvia
In November 2021, Rose Cay GP, LLP (Rose Cay), and ZeroAvia teamed up on two unique levels.
Financing for aircraft manufacturing
Infrastructure investments
The relationship helps fund ZA through sales of its hydrogen-electric aviation engines, as Rose Cay has ordered as many as 250 of the green propulsion engines pending successful approval. Delivery of engines could begin in early 2024.
The financial investment allows ZeroAvia to deliver its green hydrogen-electric engines to a marketplace that needs green energy. In addition to investments, Rose Cay will lease airplanes equipped with its engines on a global basis.
The relationship allows for the development and retrofit of existing airlines, making the option cheaper and quicker for airlines worldwide. Also, through the leasing program offered by Rose Cay, the green-powered hydrogen-electric-equipped aircraft will hit the market faster.
Alaska Air Group and ZeroAvia
Alaska Air Group, the parent company of Alaska Airlines, and ZeroAvia have partnered to place a ZA2000 engine in a De Havilland DHC-8-400 76-seat aircraft with the goal of the plane to travel 500 miles. Alaska Airlines has a big goal to be net-zero by 2040, and ZA technology is helping make that happen.
The collaboration makes Alaska Air Group one of the new top investors in ZeroAvia. The partnership pairs engineer teams from both companies to fit the ZA2000 to the Alaska Airlines platform.
With the successful completion of this project, Alaska Air Group has authorized an additional 50 ZA engine kits for retrofitting their existing airplanes. The project moves Alaska Airlines much closer to their net-zero goal and repositions ZA as a leader in green energy for airlines.
Mitsubishi's MHIRJ Aviation and ZeroAvia
Under a memorandum of understanding, MHIRJ Aviation and ZeroAvia have united to bring hydrogen-electric engines and technology to regional jet retrofits and manufacturing.
The MoU lends ZeroAvia the engineering and manufacturing of MHIRJ to produce a viable application for regional jet service. The anticipated to-market date is 2028. Additional support from MHIRJ comes from its expertise within the approval and licensing of aircraft, specifically for Part 33 airworthiness standards. As the world's most extensive CRJ series, aircraft maintenance, and repair overhaul company MHIRJ will advise and evaluate the impact of its green propulsion retrofit program.
ZeroAvia – Advancement
Each of these five relationships has some common ground. First is the dedication by each of these companies to move green propulsion into the role of being a major player in aircraft propulsion.
ZeroAvia is the company bringing the rapid and safe deployment of hydrogen-electric power trains for retrofit. However, these relationships go beyond retrofit, with a strong emphasis on moving forward with options to add the technology to new aircraft.
Many of these companies have plans to be net-zero, or close to it, over the next few decades. The technology and infrastructure of the ZeroAvia platform mean that each of these partnerships allows a portion of existing aircraft to become green quickly.
Another common theme among these partnerships is the desire to safely bring green power to existing aircraft. With over 35 test flights on small aircraft, the next step is to tackle the 19-seat Dornier 228 and approach aircraft with more seating potential.
ZeroAvia has already begun the forward movement of that process by beginning to test for larger aircraft. Each of these partnerships backs the ambitious plan, with the 19-seat certification goal to enter the market by 2024. The regional jet project has a calendar market entry by 2028. By 2028, we could also be witnessing new aircraft production with the ZeroAvia engine technology on board.
SME Paid Under